In order to pay for your online order, you can choose one of the following payment methods:


PAY ON DELIVERY
The "Pay on Delivery" option is FREE and available for orders in Greece and Cyprus, regardless of the order's value. You can pay for your order when you receive it, without any surcharge.
Moreover, you can pay through credit/debit card if you receive your package from the local courier point that will transfer your package. However, since not all courier points own a POS, we suggest that you contact them beforehand.


CREDIT/DEBIT CARD
RIST Hellas' eshop accepts Mastercard, American Express, Diners, Visa & Maestro credit/debit cards from any bank through SSL (Security Certificate & SSL Technology), confirming the payment through the 3D Secure Network system of VISA and MASTERCARD.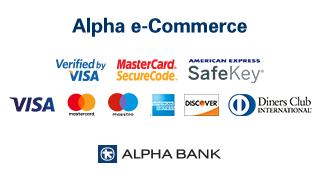 All purchases made using credit/debit cards are processed through Alpha Bank's "Alpha e-Commerce" platform and use encryption TLS 1.2 with 128-bit (Secure Sockets Layer - SSL) technology. Encryption is a process of information encoding until it reaches the final recipient, who can decode it using the appropriate key.


RIST Hellas' eshop does not collect or save in any way the data of your credit/debit card and, for this reason, you should fill in the neccesary fields every time you use your card though this site.


To pay through card, you should just choose this payment method during the checkout. After you press "Checkout", you will be automatically transfered to the bank environment to fill in your card's data.


INTEREST FREE INSTALLMENTS
In case your credit cards allows so, you can choose to complete your payment with up to 12 INTEREST FREE INSTALLMENTS. In this case, you choose how many intallments you prefer from the number of allowed installments, which depends on the value of your order. The number of allowed installments for each order are set as below:
For orders valued from 100€ to 250€, you can choose up to 3 installments.
For orders valued from 251€ to 500€, you can choose up to 6 installments.
For orders valued from 501€+, you can choose up to 12 installments.


BANK DEPOSIT
You can complete your order by making a deposit of the exact value in one of the below mentioned banks. Any additional bank charges are charged to the customer.
In case you choose this payment method, we kindly request you to fill in your order number and your full name in the justification of deposit.
Your order will be processed when the company receives your payment notice. In order to be served faster, you can send your payment confirmation through an email to [email protected] or contact us on 2310 511413.
Right when the company's account receives the payment, your order will be processed. For this payment method, your order is kept on hold, until the confirmation of deposit. Your order is valid and available for 3 working days. In case the deposit is not completed in this time period, your order is automatically cancelled.


The bank accounts in which you can make your deposit are the following:


Account Holder: RIST HELLAS PRIVATE COMPANY


ALPHA BANK: IBAN GR61 0140 3190 3190 0200 2018 138
EUROBANK: ΙΒΑΝ GR850 2602 0300 0081 0201 586702


For deposits from Cyprus, the following account is also valid:
HELLENIC BANK: IBAN CY53 0050 0240 0002 4001 7330 7001


PAYPAL
Choosing to pay through Paypal, you will be automatically transfered to Paypal's website (online secure trading system), where you can complete the payment through your Paypal account.
PayPal is the most popular, safe and reliable electronic commerce company that facilitates payments between parties through online transfers. The Paypal payment method is completely automated and is usually completed within a few minutes. During the process, no personal information (including the card number) is kept or saved in any way to our online shop. Transactions completed through Paypal refer only to orders delivered to the customer's venue and are not combined with any other payment methods.